7 Vegan Chocolate Lovers Recipes
These vegan chocolate recipes are for all my fellow vegan chocolate lovers! I have always loved chocolate. And I'm not alone. Chocolate recipes comprise the majority of all recipes online.
When I went vegan I really thought I would have to give up chocolate. Slowly over time I was able to find more and more vegan chocolate recipes. You might be surprised to know that chocolate is vegan. In it's raw form. But when candy makers create things like milk chocolate then it's no longer a vegan food.
Another interesting tidbit of information for my fellow vegan chocolate lovers. Some forms of chocolate are actually good for you. These mainly come in the form of dark chocolate or bitter chocolate. Of course it goes without saying that delicious chocolate treats should really be reserved for occasional moments of bliss.
Let's get started with one of my favorite vegan chocolate cake recipes ever.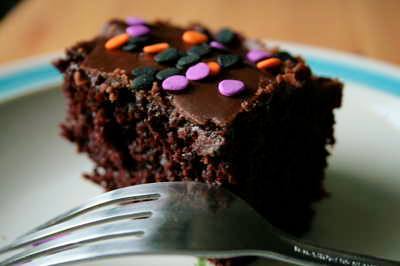 This is the best cake I've EVER ate, vegan or not. We have recently turned vegan for health purposes. So moist and delicious. The glaze is AMAZING! This is my new favorite cake.
How about an amazing vegan chocolate drink and vegan chocolate pudding? Those recipes are on the next page below.